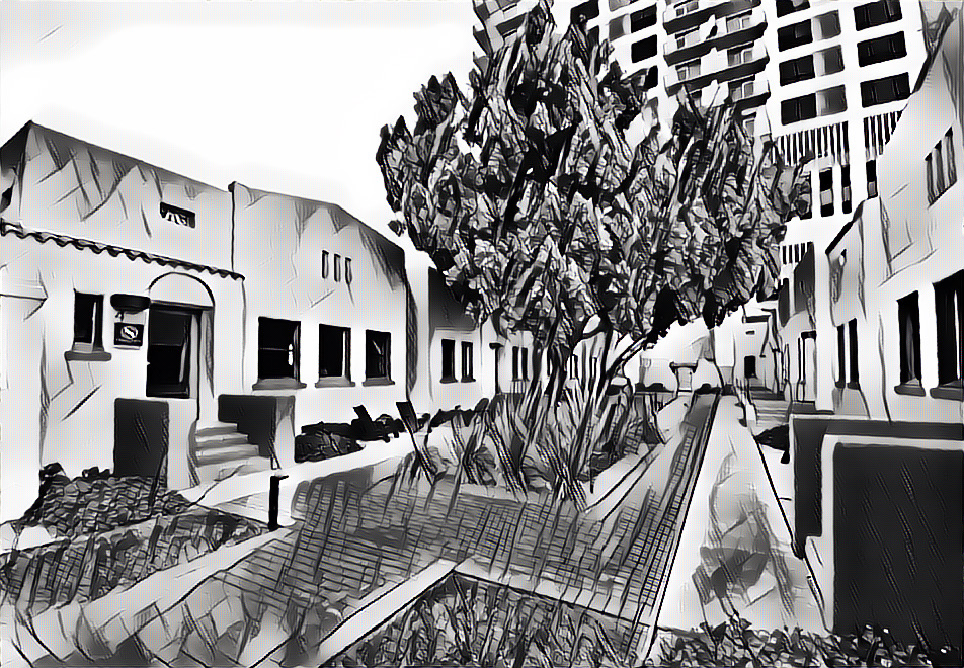 Welcome to Arcada at Roosevelt, where the echoes of the past dance harmoniously with the beats of the present, and where every moment is infused with an artistic essence that will captivate your senses and leave an indelible mark on your soul. Poised to make its grand debut in the heart of the Roosevelt Row Arts District in Phoenix in the spring of 2024, get ready to embark on an extraordinary journey into a world of unparalleled charm, excitement, and enchantment.
This remarkable building will transport you to a bygone era, where the charm of bungalow-style architecture reigns supreme. The graceful lines, intricate details, and inviting porches will captivate your imagination, evoking a sense of nostalgia and timeless beauty.
Step inside Arcada and be prepared to be transported to a world of mystery and excitement. Nestled within its historic walls, you'll find an extraordinary speakeasy bar that pushes the boundaries of entertainment. Using state-of-the-art projection systems, the atmosphere will come alive, immersing you in an enchanting ambiance that teleports to realms of time and time space beyond your imagination. From hand-crafted cocktails to mesmerizing visual displays, every moment will be meticulously curated to ignite your senses and create an unforgettable experience.
But Arcada is more than just a speakeasy—it is a sanctuary for entertainment lovers and connoisseurs alike. Within its hallowed halls, a world-class venue awaits, ready to host sensational performances that will leave you breathless. From intimate jazz sessions to electrifying concerts and the best stand-up comedians, the stage will be graced by acclaimed artists from around the world, delivering spellbinding performances that resonate deep within your soul. Immerse yourself in the harmonies, melodies, rhythms, and laughter as they reverberate through the venue, creating an atmosphere of pure bliss.
Arcada at Roosevelt is not just a building; it is a destination where architecture, technology, music, and entertainment converge to create a unique and extraordinary experience. It will be a haven for those seeking an escape from the ordinary, a place where magic happens every night.
Join us in the spring of 2024 as Arcada at Roosevelt opens its doors to a world of limitless possibilities. Experience the seamless blend of timeless bungalow charm, state-of-the-art projections, and world-class entertainment in the heart of the Roosevelt Row Arts District. Let us transport you to an era of glamour, excitement, and artistic expression that will redefine your perception of entertainment.
Welcome to Arcada at Roosevelt, where history meets innovation, and where unforgettable moments await.